HomeEvap in De Gelderlander
Huic ostiarius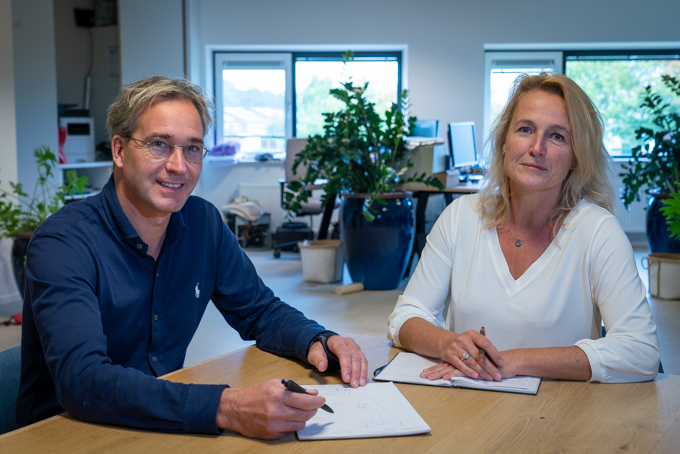 What can you do about a too dry indoor climate in the winter at home, in nurseries or in care complexes? And what if your house is too hot in the summer? Judith van Dam set to work with these questions in 2016. She developed the HomEvap with her partner Bengt Cornelissen and founded the company of the same name in Nijmegen. HomEvap is a revolutionary device that humidifies the air in the winter and cools the air in the summer. Automatic and energy efficient.
Houses can also be too well insulated, especially houses built after 2008. And houses that are equipped with a heat recovery (WTW) ventilation system. The effect is an indoor climate that is too dry in winter. In the summer there is also a negative effect of this excessive insulation: the heat remains in the house, so that the living climate is not pleasant.
'If the outside temperature drops, the relative humidity drops,' explains Judith van Dam. 'Then your house will become too dry, wooden floors will start to creak, musical instruments will go out of tune sooner, you will get dry eyes, your lenses will sting and you will be more susceptible to bacteria and viruses. Certainly in old people's centers, for example, where the heating is generally high.'
Mimicking natural situation
With the HomEvap these problems are easily tackled. The device is connected to the existing heat recovery ventilation system, whereby the warm return air is first cooled and the moisture evaporates. 'It is deliberately not an air conditioner,' explains Judith van Dam, 'but a cooling system that in fact mimics a natural situation. That is why many people find this much more pleasant than an air conditioner that blows very cold and dries out the air. In winter, the cold, dry air is first heated by the HRV and then humidified by the HomEvap. After that, the air enters the house, making it feel more comfortable. And that is good for the energy bill.'
Product range expansion
Judith van Dam works with five people in the company HomEvap. The device is now sold in thirteen countries in Europe. The product range has gradually expanded. "We started with a humidifier and later added a cooler. We also already have a combination device available, which means that you have humidification and cooling in one,' explains Judith van Dam. Together with a design agency, the company is working on a vertical variant of the existing horizontal HomEvap, which is easier to build in. 'You can attach these directly to the ventilation system, without coupling pieces.' This version will be available on the market next year. 
Judith van Dam works in her company with various technicians: 'Think of mechanical engineering, air technology, electrical engineering and, of course, business administration. That also makes working here varied and interesting.'